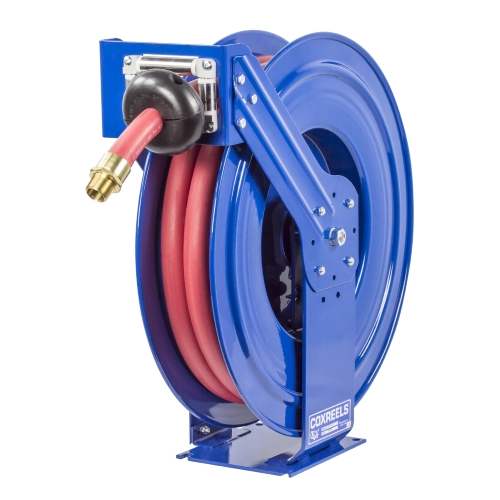 Description
Coxreels Spring-Driven Fuel Hose Reel with Hose, Model# TSHF-N-550, 3/4" Hose ID, 50' Length. Built for heavy-duty off road applications that demand extra rigidity. Triple-axle support with Super Hub and dual pedestal-style frame. Equipped with non-sparking locking mechanism and external fluid path with brass NPT swivel for easy seal maintenance and fast hose installation or replacement. Pressure PSI 300, Hose 3/4 in. x 50 ft. Professional grade heavy-duty Truck Mount spring retractable hose reels for rugged mobile heavy-duty non-aromatic fuel applications including diesel, kerosene, fuel oil and heating oil. Reel handles 50 feet of 3/4in. fuel hose at 300 PSI Industry Leading Safety Features CNC robotically spun and ribbed discs with rolled edges for added safety, strength and durability. Sturdy dual pedestal-style reel for rugged heavy duty applications. Solid one piece base and mount for maximum stability Coxreels' exclusive Super Hub dual axle support system reduces vibration and strengthens the reel's structure. Easy operation with multi-position guide arm adjusts to wall, floor, ceiling and vehicle mounts. Non-sparking lock mechanism for safe and reliable fueling applications. Industry Leading Maintenance Features External fluid path with machined from solid brass full-flow swivel for simple seal maintenance and fast hose installation. Enclosed factory tuned and matched cartridge style spring motor for proper torque and long life 1in. solid steel axle for extra strength and durability. Highest quality all steel construction for heavy duty applications. Durable, chip resistant CPC powder-coat finish.
• Includes hose
• Mounts to Floor, Wall, Ceiling, Bench and Truck
• Solid Brass Fittings
• Dual Pedestal
• 300 psi
• Made in U.S.A.