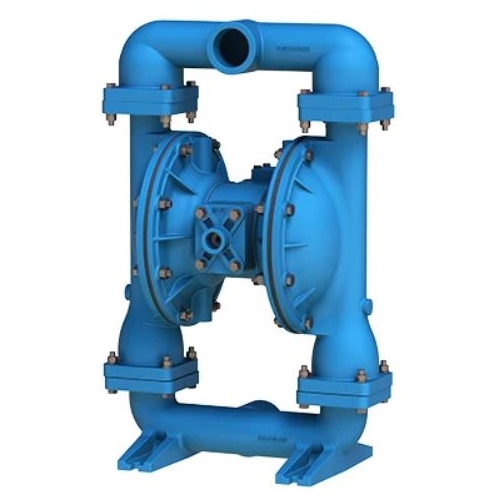 Description
The Sandpiper by Warren Rupp 2" S20 Evolution Metallic Air Operated Double Diaphragm (AODD) Pump is the highest-performing and most efficient AODD pump on the market. Equipped to handle abrasive fluids and suspended solids, this versatile and mobile pump has best-in-class flow rates and the lowest air consumption available.
Material of construction options include: aluminum, cast iron and stainless steel with elastomer TPE (thermoplastic elastomers) and PTFE options in diaphragms and check valves.
*This product is part of our Industrial division and can only be sold to customers who live in WA, OR, ID, MT, AK, HI & CA states. This is to stay within our territory that is stated in our distributor guidelines.
CONSTRUCTION DETAILS
• 0-200 GPM
• 100 PSI
• Wetted Components: Aluminum
• Diaphragms: Santoprene
• Check Valves: Santoprene
• Non-wetted Components: Aluminum
• Seats: EPDM
S20 BENEFITS
Max flow rate: The S20 is the world leader in maximum flow rate, allowing you to get your work done faster with up to 32% higher capacity.
Air consumption: The S20 requires up to 59% less air to operate, reducing the load on your compressed air system and lowering operating costs.
Air economy: SANDPIPER's metallic standard duty pumps provide up to 2.5 times more gallons out for every cubic foot of air supplied.
Annual savings: SANDPIPER'S S20 Metallic Standard Duty Pumps can save you up to $3,170 in annual operating costs.
S20 FEATURES
Serviceability: The air distribution system (ADS) is one of the most frequently serviced parts of any AODD pump. Only SANDPIPER's ESADS+ feature allows access to the complete ADS without removing the pump from service. Repair or clean in five minutes (versus 55 minutes for competitors).
Simplicity: SANDPIPER'S original ADS is fully interchangeable, repairable and inline-serviceable. Other manufacturers frequently change ADS designs, creating issues with interchangeability, obsolete inventory and increased cost of ownership.
PERFORMANCE GUARANTEES
• Diaphragm Connecting Rod Guarantee
• 5-Year Limited Product Warranty
• Anti-Stall Air Valve Guarantee