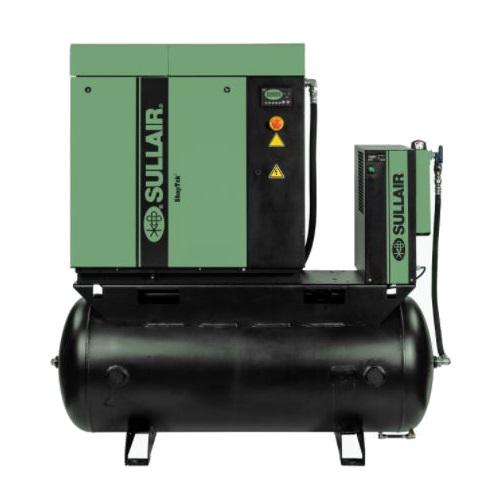 Description
As soon as this item is ordered, one of our staff members will reach out regarding timeframe of shipment and when you can hope to receive your product. Shipping is included, please select LTL shipping option on the checkout page to bypass additional shipping charges.
These economical, efficient, reliable compressors combine Sullair's proven rotary screw technology in a compact belt-drive package which establishes new standards for continuous-duty compressors to meet the needs of small horsepower markets, such as: light manufacturing, cabinet and trim shops, auto body and tire shops, commercial laundries, and an endless number of other applications. Along with the exceptional performance and reliability that is Sullair's trademark, the ShopTek™ air compressor is simple to install with a small footprint for better utilization of floor space. It also features a durable enclosure that reduces sound levels as low as 66 dBA and is easily removed for routine maintenance procedures. The conveniently located control panel provides access to an integrated full voltage starter.
Warranty options that can be added on separately (sales rep will reach out after purchase on warranty options.)
• 5-Year Extended Emerald Warranty Protection includes start up service by factory authorized dealer
•10-Year Extended Diamond Warranty Protection includes start up service by factory authorized dealer
Features & Benefits:

• CFM: 37.8
• HP: 10
• PSI: 125
• Tank Mount With Dryer/Filter
• Air-Cooled
• 208-230V/460V/3Ph/60Hz Premium Efficiency TEFC
• 208-230V/460V/3Ph/60Hz IP54 Full Voltage
• Single stage Oil Flooded Rotary Screw Compressor
• Foot Mounted 40 degree C Rated Premium Efficiency IP54 (TEFC) Main Motor
• Premium Efficiency IP54 (TEFC) Fan Motor,
• Belt Driven Airend
• Air cooled heat exchanger(s)
• Enclosed
• ST Controller
• Full Voltage Starter (MFV)
• IP 54 Controls
• Inlet Filter
• Nylon Control Tubing

• Sullube Lubricant
Need installation or factory authorized start up support? For 24-hour assistance, call 1-866-577-2755 to talk to our Industrial service team!