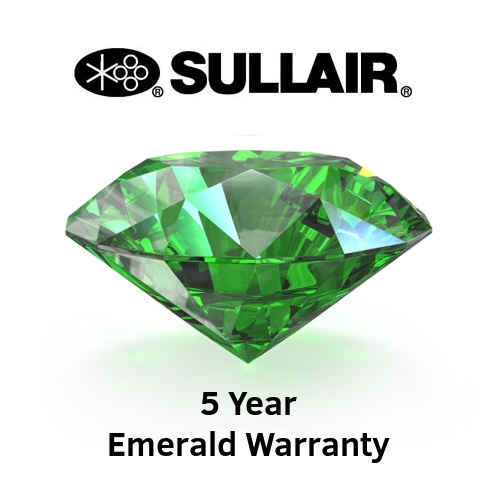 Description
As soon as this item is ordered, one of our staff members will reach out regarding timeframe and when you can hope to receive your product.

Sullair 5-Year Emerald Warranty™ Protection for rotary screw air compressors includes 5 years coverage on the airend units for up to and including 150 psig (10 bar) discharge. 5 years coverage on parts, labor, travel and time are included. Conditional on the use of Sullair fluids and parts, and maintaining the machine in accordance with Sullair's recommended intervals and requirements. To participate in the Extended Warranty Airend, all airends built after January 1, 2014 must participate in the 'Sullair Oil Sampling Program' (every 2000 hours or twice per year, whichever comes first). A missed sample interval, or two consecutive "bad" samples void the extended warranty. All warranties are considered concurrent unless otherwise stated. Required start up and service done by an authorized Sullair distributor.
• Price Includes startup (installation not included) and warranty activation by your local, factory certified Sullair dealer
• The most comprehensive extended warranty program in the industry
Need installation or factory authorized start up support? For 24-hour assistance, call 1-866-577-2755 to talk to our Industrial service team!

*Conditions apply